DATTATREYA TRADITION
(DATTA-PARAMPARA)
PART VII-3 FAMOUS DEVOTEES: Part 3
Dr V.V.Shirvaikar

SHRI DATTATREYA
CONTENTS: Shri Saibaba Of Shirdi · Bibliography
SHRI SAIBABA OF SHIRDI
Shri Saibaba of Shirdi falls in a class by himself. He is not known to have initiated any disciples but he has given spiritual guidance to aspirants. But most people approached and are still approaching him even nine decades after his mahasamadhi for their worldly problems like desire for a child, especially a son, incurable illnesses and financial gains and he satisfies them all. That is why Baba probably has the highest number of devotees throughout India and abroad. His temples have been established in many countries east and west.
Actually, though his name is closely associated with Datta-parampara he himself was a devotee of Shri Rama. There is no outward connection between Baba and Shri Dattatreya but in many incidents it was indicated that he was no different from Shri Dattatreya. But then he also showed that he was no different from other deities too as will be seen later. The modes of the rituals at Shirdi, like the eternal fire, use of ashes, equal treatment to Hindus and Muslims etc. correspond to those of Nath Sect.
Shri Sai Baba of Shirdi
Mr. Govind Raghunath Dabholkar, one of Baba's close devotees, has written Baba's biography "Shri Sai Satcharit" in Marathi verse form having fifty-two chapters. This is the holy book of Sai-devotees as much as Gurucharitra is for Datta-devotees. It was written with Baba's permission and in that respect it is unique. Baba used to lovingly call Mr. Dabholkar as Hemadpant. It is the name of a minister of Yadava dynasty famous for temple architecture in south India.
Baba's appearance Mr. Dabholkar has described Baba as follows: Baba was about five feet and six or nine inches tall, with unusually long hands which reached below his knees. He always used to wear a gown reaching up to ankles and his head used to be covered by a white cloth. Sometimes he used to wrap an orange cloth round his waist under the gown. He used to have a black stick, about the thickness of a thumb, which he used to call "satka". He also carried a tumbler, tobacco and a pipe. He was always barefoot. He used to sit on an old piece of gunny cloth and apply ash or "udi" on everybody who came to see him and also give away a little udi as Prasad for taking away. He could very often be seen sitting in Dwarkamai gazing in the continuously burning fire. The way he slept was very odd. There was a plank about six feet long and only about eight inches wide which hung from the ceiling supported by rags. He used to sleep mostly on this plank but nobody ever saw him climbing onto it or getting down from it.
Though Sai Satcharitra gives a number of anecdotes concerning Baba, the time factor is missing as in most of our religious literature. Some of Baba's devotees have done extensive research on Baba's origin, early life and chronology of events. For devotees the feeling of devotion is more important than chronology; however chronology makes the chart of Baba's life clearer. The account of his life and activities given in the following is partly based upon the chronology given by M.V. Kamath and V. B. Kher in their book "Sai Baba of Shirdi" (See Bibliography) as well as upon Sai Satcharitra.
Paduka of Sai Baba
Birth: Sai Baba was born sometime between 1838 and 1842 AD at Pathri in Marathwada. It is located about 16 Km from Manwat railway station on the Manmad-Secunderabad line. It was then in the Nizam ruled region. Most likely, he was born in the Bhusari family who were Yajurvedi Deshastha Brahmins. Their family deity was Hanuman which explains Baba's love for Shri Rama. At the age of eight he left home with a Sufi Muslim fakir who was his guru. Name of this fakir is not known definitely. Dasganu, one of Baba's devotees mentions that Baba's guru was Mr Gopalrao Deshmukh alias Babasaheb Subhedar of Sailu a town about 23 Km from Pathri. However Gopalrao's samadhi situated behind the Venkatesha temple dates 30 years before Baba's birth hence Mr Gopalrao cannot be Baba's guru. Apparently Dasganu has given his name without much inquiry. Baba had once told the story of his birth to Mhalsapati, according to which Baba was born in the family of a Deshastha Yajurvedi Brahmin in a village called Pathri and he was handed over to a Muslim fakir when he was a child.
Swami Sai Sharan Ananda (formerly Vaman Prangovind Patel) has said that Sai Baba told him that he was a Brahmin and his guru's name as Roshan Shah Mia. But he also opines that the name means Lord of Knowledge and could have been used figuratively by Baba. Whatever the name may be Baba did serve him for more than twelve years and when he passed away Baba buried him under or near the neem (margosa) tree in or near Navalkarwada in Shirdi.
Baba talked lovingly about his guru whom he served for twelve years. He was a great auliya and was a personification of love and kindness always in the highest state of samadhi. He became Baba's all-in-all, home, father and mother. He wanted nothing from Baba except faith and patience (Shraddha and Saburi) which Baba gave. These have become key words for all Sai-devotees. His guru taught him everything.
First appearance in Shirdi Sai Baba first appeared at Shirdi in 1851 (aged about 16 or 19 Years) and stayed in the village for two months. He resided day and night under a Neem tree which he claimed was growing over the tomb of his old Guru. After two months Baba disappeared from Shirdi.
Up to the age of 25 or 30 Baba wandered in the Paithan-Aurangabad region and probably elsewhere too. Then he stayed in Aurangabad for twelve years during which period he instructed a fakir named Bade Baba or Fakir Baba or Fakir Pir Mohanmmad Yasinmia. From here Sai Baba travelled widely in the Marathwada region and wandered to Dhoopkheda (or Dhoop) in Aurangabad District. It is this visit to Dhoop village that triggered the events that took him again to Shirdi sometime between 1868 and 1872.
Baba settles in Shirdi Chandbhai, a Muslim trader and patil of Dhoopkheda had lost his mare and was searching for it in the jungles near Dhoop village. Standing under a tree all tired, he noticed a young fakir with pink complexion and bright eyes, wearing a gown and cap rolling tobacco for his pipe. The fakir also saw him and asked him where he was going. When Chandbhai told about his lost mare he smiled and said that the mare was not lost but was grazing among the bushes nearby. Chandbhai went there and recovered his mare. He came back to the fakir and bowed before him, sure that he was an Avaliya with supernatural powers. The fakir signalled Chandbhai to sit down and asked him to light the pipe which he had just filled. Chandbhai was nervous because he did not have anything with him for lighting a fire. The fakir smiled, took tongs from under his arms and hit it against the rock and suddenly red-hot embers were burning on that rock. The fakir picked up one and lighted his pipe. Now the fakir wanted to moisten the cloth for the pipe and there was no water. Again the fakir generated water the same way and offered the pipe to Chandbhai. Greatly impressed, Chandbhai invited him to his home. The fakir promised to come three days later and did so as promised. Baba was treated as an honoured guest. Chandbhai requested Baba to join the marriage party which was going to Shirdi for his sister's marriage with Hamid the son of Aminbhai of Shirdi. Sai Baba gladly accepted. He stayed in Shirdi as guest of Aminbhai.
At Shirdi the party camped in the premises of the Khandoba temple under a banyan tree. The fakir was sitting under the tree smoking his pipe when Mhalsapati Sonar the owner and the priest of the temple who always welcomed and treated all holy visitors, felt attracted towards the fakir and addressed him, "Ya Sai (Welcome Sai)" in Marathi. Sai means Lord, God or fakir. The name stuck to the fakir who decided to stay in Shirdi. After marriage Chandbhai left Shirdi with Baba and returned to his village. However Baba returned to Shirdi alone two months later. He was then between 25 to 30 years of age.
After coming to Shirdi Baba first thought of staying in the nearby village Rahata and consulted Chandrabhan Seth who had business connections in Marathwada from where Baba had come. Seth offered him a place called Pawarwada belonging to Sand family but Baba decided to live in Shirdi.
Shirdi in Baba's time At that time population of Shirdi was 2568, living in about 400 houses. Besides Brahmins there were people of various professional castes like goldsmith, carpenter, ironsmith, tailor, potters as well as those belonging to scheduled caste engaged in trades like making leather and footwear. It was a small but self sufficient village with two wells, two schools, two orchards, nine temples, two mosques, one dharmashala (pilgrim rest house), a sugar mill and a flour mill. According to a statement by Mrs Tarabai Tarkhad, wife of the manager of the Rajabahadur Textile mills Pune, there was no street lighting or any arrangement for sweeping roads.
Early days in Shirdi In Shirdi he stayed for about two and a half years in the babul forest and then under a neem (margosa) tree for another four to five years. He finally shifted to the dilapidated mosque. People cleaned the mosque which was later known as Dwarkamai. During this period Bayajabai mother of Tatya Kote Patil and wife of Narayan Teli, used to feed him as they could. Bayajabai had felt an intrinsic love for Baba and had vowed she would not eat unless Baba ate first. She would go with the food basket in search of Baba in the woods and feed him. Baba considered her as his mother. Later, Baba saved her son Tatya Patil from many difficulties and raised him socially, even risking his own life to save him.
A Divine Jewel In the early seventies Baba used to be very much alone. Only saintly people (like Bidkar Maharaj) visited him and he enjoyed those visits. At that time Shirdi sheltered two holy men one was Devidas who camped in the Maruti temple for last twelve years and the other was Janakidas Gosavi of the Mahanubhava sect. Another holy man, Mr Gangagir Buwa of Puntambe used to visit Shirdi often. When he saw Baba in the Babul forest he remarked to Mr. Nanasaheb Dengle of Nimgaon that Sai Baba was a chintamani (a mythical jewel that gives whatever you wish). Dengle then went to Babul forest to meet Baba and bowed at his feet. Saint Anandnath (aged 95 years) of Yewala Math and a disciple of Akkalkot Swami once visited Shirdi and seeing Baba exclaimed, "This is a precious real diamond." Bidkar Maharaj, a disciple of Swami Samarth of Akkalkot met Sai Baba in 1873. Later in 1885 another disciple Anandanath Maharaj met Sai Baba and told villagers that Baba was like a genuine diamond lying in a dung heap.
After Baba shifted to the mosque (Dwarkamai) he was a little more regular in his habits. Villagers used to consider Baba as a mad fakir but go to him anyway for medicines. Initially he used to give herbal medicines but later he began to give only the ash (udi) from the dhuni (continuous fire) maintained in Dawarkamai.
By 1878 Mhalsapati the priest of the Khandoba temple, Appa Kulkarni, Jagle and Dengle, when they realised Baba had supernatural powers, became ardent devotees began to accept Sai Baba as their Guru. It is this trio that helped Baba settle in the mosque. Dengle used to move in Government circles and knew many Government officials.. Around 1881 Madhavrao Deshpande who used to be a teacher in the Shirdi primary school accepted Sai Baba as his Guru. Baba used to call him fondly as Shama and said that both of them had a relationship of many past births. At night Mhalsapati used to sleep near him and used to have discussions on serious metaphysical topics. In the end, only Mhalsapati and Shama survived Baba. By next year Chidambar Gadgil, the Mamlatdar was the first important official to consider Sai Baba as a man of knowledge and visited him
Somebody brought a bell and the custom of hailing the name of Shri Ram soon started. Baba used to sleep alternate nights at Dwarkamai and at a place called Chawdi where there used to be a program of singing bhajans.
Baba used to wear a white gown, but later, on request of Kashiram Shimpi he started wearing ochre and green coloured gown. In the early days he used to sit in trance under a neem tree, the place now known as Gurupadukasthan (place of Guru's padukas). He used to give spiritual advice to his devotees while sitting under this tree. The branch under which Baba used to sit has sweet leaves while other branches have bitter leaves.
Baba took bath by himself using extremely hot water which would have scalded any ordinary person. After bath he went out to beg for alms in five houses, always the same five houses. These were the houses of: Bayajabai Kote Patil, Patilbuwa Gondkar, Nandram Savairam, Appaji Kote and Narayan Teli. After that he went to a garden called Lendibag cultivated by himself where a leper by the name of Bhagoji used to escort him under an umbrella. He used to enter Lendibag and spend an hour or two alone. (On return from Lendibag there used to be afternoon Arati and thereafter lunch for all. Arati used to be attended by twenty to twenty-five persons. He also had a horse by name Shamsunder who used to stand steady during Arati and used to bend his front legs in obeisance at the end. Afternoon was crowded with devotees of all types, those in difficulties and coming for solace, those desiring material benefits and also those who wanted spiritual guidance.
By 1878-79 began to be recognized as a jnani, man of Knowledge. Mr Chidambar Gadgil, who was a Mamlatdar called on him recognizing him to be a jnani.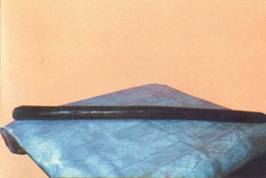 Satka and tumblers used by Sai Baba
Three day samadhi Towards end of 1885 Baba had a severe attack of asthma. He called Mhalsapati and told him that he was going into samadhi state for three days and was entrusting the body to him. He was to care of the body for three days. He then went into nirvikalapa samadhi. Mhalsapati sat on guard near the motionless body. Some people wanted to take the body for funeral rites thinking Baba had passed away but Mhalsapati stood firm and did not permit it. Baba came out of the samadhi three days later to everyone's relief. Mhalasapati was close to Baba who trusted him implicitly. Other persons close to Baba were Madhavrao Deshpande alias Shama, Bayajabai and Abdul.
Abdul In Nanded there used to be a fakir named Amiruddin. Abdul had set himself in his service since he was sixteen. In the year 1889, Baba appeared in Amiruddin's dream, put two mangoes in his hands and asked him to send Abdul to him. When Amiruddin woke up he really found two mangoes in his hands. He gave them to Abdul, and asked him to go to Shirdi and serve Sai Baba. Abdul came immediately to Shirdi. On seeing him, Baba said that his crow had come. Baba asked him to do his service with single minded. From then onwards it was Abdul's task to keep the Dwarkamai and adjoining places clean. He also kept clean swept the paths on which Baba walked. He also cleaned the lamps in Dwarkamai and helped Baba in Lendi Bagh. Abdul washed Baba's clothes daily in the nearby stream and kept them neat.
In his leisure time he sat near Baba and read the Quran. He put two big pots of water near the Nanda Deep in Lendi Bagh. Baba set in the evenings daily at a fixed time near Nanda Deep. He took water in his hands from the pots and reading something sprinkled the water on all sides. After that he got up and looked seriously in all the directions in which water was sprinkled. People thought that this way Baba was protecting his devotees. Abdul survived Baba. His room next to Dwarkamai is still preserved.
Abdul used to write notes of his experiences. According to them Baba had profound knowledge of Quran as much as he had the knowledge of Bhagavad-Gita and other Hindu texts..
Nanasaheb Chandorkar Narayan Govind alias Nanasaheb Chnadorkar was personal Assistant to the Collector of Ahmednagar in 1891 when he first met Baba. According to Baba his connection with Nanasaheb Chandorkar went back to many previous births. Baba always saw that such people with earlier connections came to him. These persons of course were not aware of their past connections with Baba. The way he made Nanasaheb Chandorkar do this is as follows.
One day in 1892 the village munsif Appa requested Baba's permission to leave Shirdi (nobody left Shirdi without Baba's permission) to go to Kopergaon to meet the Deputy Collector who was camping there. The name of the Deputy Collector was Nanasaheb Chandorkar. Baba told Appa to inform the Deputy Collector that Baba wanted him to come to Shirdi. Appa was surprised because it was unprecedented that a fakir from a small village asking the Deputy Collector to come to him.
With great hesitation Appa gave Baba's message to Nanasaheb Chandorkar. Nanasaheb Chandorkar ignored Baba's call twice or thrice. But after some days, he came to Shirdi. He had forgotten to bring an offering to Baba as is customary when one visits a saint or a deity. But he remembered he had a small packet of candy sugar and almonds kept in his pocket for emergency. He offered that to Baba who accepted it and distributed the contents to those present. Nanasaheb was surprised to note that that small packet sufficed for the two dozen persons gathered around Baba.
At the very first meeting with Baba, Nanasaheb felt that both of them knew each other from several births and felt very happy. The acquaintance with Baba slowly grew and Nanasaheb Chandorkar became a staunch devotee of Baba. Nanasaheb Chandorkar believed that Baba was the incarnation of God. Baba later told him that they had special relations which went back for four births and that Nana was his responsibility. Baba seemed to have such relationships in past lives with many people. He somehow managed to bring them to Shirdi and look after their welfare. In some cases he would instruct them through dreams. In some cases he would instruct persons in his entourage who knew such people to bring them to him. He told a devotee that their relationship went back to seventy-two lifetimes.
There is no written record of Baba's leelas (activities) prior to the visit of Nanasaheb Chandorkar. Having noticed this, Nanasaheb Chandorkar gave diaries to all close devotees of Baba with a request to record whenever and whatever they noticed about his greatness, his leelas and miracles. The compilation of Baba's life history became possible to only because of the foresight of Nanasaheb Chandorkar.
Baba went to any extent to help his devotees spiritually and materially too. But he tested them also to see that they remained righteous.
Once Nanasaheb agreed to give to the caretaker of the Dattatreya mandir on the Kopergaon-Shirdi route, three hundred rupees towards the cost of building a ghat (steps and landing platform to go to the river or lake shore). But he could not raise that amount and next time he visited Shirdi, took a circuitous route in order to avoid the caretaker but suffered a lot on the way. On reaching Shirdi he found Baba in a foul mood. Omniscient Baba reprimanded him for not only not keeping his promise to the caretaker but also for trying to avoid him instead of confessing that he could not collect the promised money.
Nanasaheb was very careful in his behaviour but he made a mistake once more. It happened like this. When Nanasaheb lived in Kalyan a beggar woman came to his home for alms. His wife gave her usual alms but the beggar woman demanded that she be given some Bhajani (flour of mixed roasted grains) which his wife had made that very day. That the beggar woman knew about Bhajani itself should have alerted the wife that she was no usual beggar. Not wishing to displease her she gave her a little Bhajani. But the beggar woman demanded more. She gave some more and again the woman demanded more. This made the wife very angry and she called her husband. He also got angry, called his office chaprasi (peon) and threw her out. Before leaving the woman remarked, "If you didn't want to give you could have said so but why do you have to call chaprasi to send me out? I shall go by myself".
After a few months when Nanasaheb went to Shirdi he again got a cold reception. When asked, Omniscient Baba told him he did not wish to speak to a person who breaks his word and again reprimanded him for calling a chaprasi to drive away the beggar woman instead of nicely telling her of his inability to give.
Baba often told the importance of Guru's place in the life of a disciple and how the disciple should consider his Guru as the Supreme Being.
The Jammer miracle as it is called occurred in 1904-05. It concerns Nanasaheb Chandorkar's pregnant daughter Mainatai at Jamner in Jalgaon and shows not only Baba's siddhis but extent to which Baba would go to protect his devotees.
At that time Nanasaheb Chandorkar was Mamlatdar at Jamner, in the Khandesh District, which is more than 100 miles away from Shirdi. Mainatai was about to deliver. Her case was very serious and she was suffering from labour pains for the last two or three days. Nanasaheb tried all remedies but in vain; he then remembered Baba and invoked His aid.
In Shirdi, one Ramgirbuva, whom Baba called Bapugirbuva, wanted at this time to go to his native place in Khandesh. Baba called him and told him to stop at Jamner on his way home and give the Udi and Arati to Nanasaheb. Ramgirbuva said that he had only two rupees with him and that amount was just sufficient for the railway fare up to Jalgaon and it was not possible for him to go from Jalgaon to Jamner, a distance of about 30 miles. Baba said,"God will give." Then Baba asked Shama to write a well-known Arati composed by Madhav Adkar and give a copy of it with Udi to Ramgirbuva to be delivered to Nanasaheb.
That was Friday and he started at once. He reached Manmad at 7-30 p.m. and Jalgaon at 2-45 a.m. At that time plague regulations were enforced and he was wondering how to reach Jamner. To his great relief he heard somebody calling out "Who is Bapugirbuva of Shirdi?" It was a peon who was calling. He told him that he was Bapugirbuva. Then the peon said he was sent by Nanasaheb and took him out to an excellent tonga (horsebuggy) with a good pair of horses. They both drove in it. The tonga ran fast and early in the morning they came to a stream. The driver took the horses for watering them and the peon asked Ramgirbuva to partake of some eatables. On seeing the beard, moustache and the livery of the peon, Ramgirbuva suspected him to be a Moslem and was unwilling to take any refreshments from him, but the peon satisfied him by saying that he was a Hindu, a Kshatriya of Garhwal and that Nanasaheb had sent these refreshments and that there should be no objection to his eating them. After refreshments they started again. They reached Jamner at dawn. Ramgirbuva alighted to attend a call of nature. When he returned after a few minutes, there was no tonga, no driver and no peon. He was dumbfounded. Then he went to the neighbouring house and made enquiries, he learnt that the Mamlatdar was at home. He went to Nanasaheb's house, announced himself and gave Baba's Udi and Arati to Nanasaheb. At this time, Mainatai's condition had become very serious and all were in deep anxiety. Nanasaheb called his wife and asked her to give the Udi, mixed with water for their daughter to drink and sing Baba's Arati. He realised Baba's help had come at the most crucial time. In a few minutes Mainatai delivered the child safely. When Ramgirbuva thanked Nanasaheb for the peon, tonga and the refreshments etc., the latter was greatly surprised as he had not sent anybody to the station, and was not aware of any person coming from Shirdi.
Mr. Nanasaheb Chandorkar used to get transferred from place to place in the course of his duties. Once when he was the Mamlatdar at Nandurbar in Khandesh his devotion to Sai Baba bore fruit, as he got an order to go and stay at Pandharpur. Nanasaheb had to leave for Pandharpur immediately without even writing or informing anybody at Shirdi. But on the way he wanted to give a surprise visit to Shirdi and salute Baba before going to Pandharpur. Nobody dreamt of Nanasaheb's departure for Shirdi, but Sai Baba knew all about this, as he was omniscient. At the time he reached Nimgaon, a few miles from Shirdi Baba was sitting and talking with Mhalsapati, Appa Shinde and Kashiram in Dwarkamai when he suddenly said, "Let us all four do some Bhajan, the doors of Pandhari are open." Then they began to sing in chorus, the meaning of the song being "I have to go to Pandharpur and I have to stay on there, for it is the house of my Lord."
Nobody believed that Baba knew Sanskrit. One day he surprised all by giving a good interpretation of a verse from the Gita to Nanasaheb Chandorkar and removed his pride.
Miracle of the lamps Baba liked to illuminate the mosque with oil lamps. Baba used to visit the village shops for the oil and lighting many lamps with it sat on a stone nearby to watch the lights. But how long could they give the oil free? One day they united and decided not to give Baba oil free any more. When Baba came for oil they told they did not have oil. He returned without a word and sat in deep thought. Suddenly he got up, put wicks in the lamps, added water to the oil remaining in the oil container and drank the mixture. Then he added water to the container and poured it in the lamps and calmly lighted the lamps. The traders and other bystanders were watching this act of Baba. When they saw that the lamps were burning even with water they were surprised and bowed before Baba. They were now convinced that Baba was a great Siddha with divine powers. They surrendered to him. Baba reprimanded them for lying about their not having oil and said that they could have told that they were unable to give it free. From that day the devotees increased in number. This miracle happened in the year 1892.
In 1894 some fundamentalist Muslims who did not like worship of Baba in the mosque came in procession led by the Kazi of Sangamner but had to go back.
Regular worship and Aratis From the year 1904, devotees started performing aratis three times a day in Dwarakamai. Nana Chandorkar had finalised the procedure and the songs to be sung during the aratis. For the afternoon arati all villagers assembled near Dwarakamai and sometimes Dwarakamai overflowed with the devotees. Even though thousands flocked there, Baba blessed them all. No true devotee ever left Shirdi empty-handed. Some devotees thought that since Baba had not seen them nor heard their problems, how could they get relief? Baba knew their doubts and announced publicly, "Oh my devotees! You will get rewarded for the devotion and confidence you reposed in me. The moment you enter Shirdi village all your worries and difficulties will be over. Those who step into Dwarakamai, irrespective of their status, will get happiness. This 'mother' is very benevolent."
From 1909 onwards devotees treated Baba like a deity and began observing certain daily rituals common in worship of deities in temples. Seeing their love for him Baba had to reluctantly agree to all this. Whenever he slept in Chawdi they began Kakad Arati or early morning prayers using torch. (This is done symbolically to wake the deity who is treated as if it has all the attributes of a human being.) Then they took him in a procession to Dwarkamai where Baba used to sit on a stone. He then did his routine ablutions like cleaning the mouth, bath etc.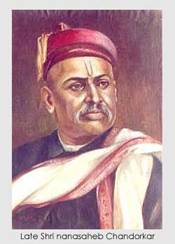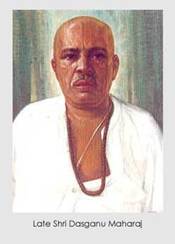 Dasganu Maharaj His original name was Ganesh Dattatreya Sahasrabuddhe. He later became famous as Dasganu Maharaj and wrote biographies of many saints. He was with the police department which came under Nanasaheb Chandorkar who forced him to visit Shirdi many times at Baba's behest. His Guru Shri Vamanshastri Islampurkar had told him before taking samadhi to consider Shirdi Saibaba as his own form and that he would guide him. Dasganu came to Shirdi for the first time in 1896, was strongly attracted to Baba and became his ardent devotee.
Once, Dasganu came from Nevasa to Shirdi without taking official permission to leave his headquarters. Next day there was to be an inspection of his headquarters by the police chief therefore he wanted to hurry back. But Baba, instead of giving him permission insisted that he should not leave. Dasganu was extremely worried because his absence would have resulted in his dismissal but nobody dared disobey Baba's instructions. About 3 AM in the morning Baba kicked him awake and shouting at him for sleeping asked him to leave immediately. Dasganu immediately left Shirdi as per Baba's instructions. It was night when he reached the dry basin of Pravara river where he encountered four persons whispering together under suspicious circumstances. Dasganu rushed forward with his pistol drawn in hand and ordered them to surrender. They were notorious robbers and were sharing the loot. Dasganu took them to the headquarters where his chief had already left after passing adverse remarks on Dasganu. But everything changed for the better when his chief learnt that he had captured the four robbers. Thus Baba timed his departure well.
Dasganu left Government service in 1903 and as per Baba's instructions settled at Nanded. He started performing kirtans (discourses) and writing life histories of recent saints. The same year Dasganu's book 'Sant Kathamrit' was published. (Ch. 57 about Sai Baba's advice to Nanasaheb Chandorkar). Dasganu's kirtans on Baba's activities spread Baba's name far and wide. Dasganu's book 'Bhakta-Leelamrit' was published in 1906.
Ishavasya Upanishad and the Maidservant Dasganu once started to write a Marathi commentary on the Ishavasya Upanishad. Though he translated it in ovi style verse by verse, he himself did not understand the essence of the Upanishad. Dissatisfied, he consulted pundits who also could not satisfy him and finally he resolved to consult Sai Baba. In his next visit to Shirdi after prostrating before Baba he put forward his difficulties about the Ishavasya Upanishad. Sai Baba, blessed him and said, "You need not be anxious, there is no difficulty about the matter; the maid-servant of Kaka (Kakasaheb Dixit) will solve your doubts at Vileparle, on your way home". The people who were present then and heard this, thought that Baba was joking and said, "How could an illiterate maid-servant solve the difficulties of this nature", but Dasganu thought otherwise. He was sure that whatever Baba spoke must come true.
From Shirdi he went to Vileparle in Bombay and stayed with Kakasaheb Dixit. The next day morning he heard a girl singing in clear and melodious tones a beautiful song describing the beauty of a crimson coloured embroidered Sari with pretty borders. He came out and saw that it was the maidservant girl who was singing it while cleaning the utensils. The girl was happy oblivious of being dressed in rags. Dasganu felt pity for her and arranged through his host to give her a new Sari. The girl was very happy and came next day to work wearing that new Sari. That day also she played and danced with other girls in happy mood. But next day she was back dressed in her rags but she was as happy as the previous day. Now he realized that feelings of pain and pleasure depend upon the attitude of our mind. On thinking deeply over this incident, he realized that he had received a practical demonstration of the lesson of the Upanishad - the lesson of contentment with one's own lot in the belief that whatever happens, is ordained by God and is ultimately good for us.
Radhakrishna Mai
A 25 year old widow, Mrs Sunderabai Kshirsagar, arrived in Shirdi in 1907. She came to be called Radhakrishna Mai. She was blessed by Baba who used to send a part of food collected as
Bhiksha
to her. One
Balaji Patil Newaskar a great devotee of Baba used to keep clean all the passages and streets on which Baba walked daily. After Balaji's death this work was done by
Radhakrishna Mai and after her by Abdul.
Ideal devotion
This Balaji who was a farmer. He used to bring all his annual crop to Baba and took back only whatever Baba gave him for his family's sustenance during the year. This practice was continued by his son. One can only contrast this devotion with that of the devotees" who came (and come) to Baba only for their personal gains.
Celebration of Ramnavmi and 'Urus' at Shirdi Mr. Gopalrao Gund a Revenue Inspector at Kopergaon was a great devotee of Baba by whose blessings he had got a son. He suggested the idea of celebrating a 'Urus' (fair) in the year 1897. Other Shirdi devotees Tatya Patil, Dada Kote Patil and Madhavrao Deshpande (Shama) approved of the idea and Baba's permission and blessings for the same were obtained. Their application to the Collector for permission to hold the Urus was first rejected on the recommendation of the village Kulkarni but was given later. Baba suggested that the Urus should be held on Ramnavmi day. Simultaneously the Muslim devotees started the Sandal Utsav. This idea of 'Sandal' procession originated with one Amir Shakkar Dalal, a Muslim devotee from Korhla. This procession is held in honour of great Muslim Saints. Sandalwood paste and scrapings are put in thalis (metal dishes) which are carried in procession through the village with incense burning before them and to the accompaniment of band and music. Then, after returning to the Masjid, the contents of the dishes are thrown by handfuls on the 'Nimbar' (niche) and walls of the Masjid. This work was managed by Amir Shakkar for the first three years and then afterwards by his wife. So on one day, the two processions, the 'Flags' by the Hindus and that of 'Sandal' by the Muslims, went on side by side, and are still going on without any hitch.
In combining the Urus and Ramnavmi it seems Baba had some end in view, in this, viz., the unification of the two festivals, the Urus and the Rama-Navami and the unification of the two communities - the Hindus and the Muslims. As future events showed, this object was achieved.
In 1912 A.D. a devotee Mr. Krishnarao Bhisma (the author of the pamphlet 'Sai Sagunopasana'), came for the fair with Dadasaheb Khaparde of Amravati. He suggested that Birth of Rama with traditional rituals also should be celebrated on the Urus day with kirtan, prasad etc. Since 1912, this festival began to grow in scale gradually year by year. From the 8th to 12th of Chaitra, Shirdi looked like a bee-hive of men. Shops began to be set up in increasing numbers. Wrestling bouts were also held.
Radha-Krishna Mai used to be a major support during these festivals. Her residence was full of guests on the occasion, and she had to look to their needs and also to arrange for all the paraphernalia of the fair. Feeding the poor, so dear to Sai Baba, was done on a grand scale in this fair. For this purpose, cooking on a grand scale and preparing various sweet dishes was done in Radha-Krishna Mai's home. The rich and wealthy devotees took a leading part in this programme. Another work, which she willingly did was to clean and white-wash the entire Masjid, its walls and floor, which were blackened and were full of soot on account of the ever-burning Dhuni (sacred fire). She did this work during the night when Sai Baba went to sleep every alternate day in the Chawdi. She had to take out everything, including the Dhuni and replace them after thorough cleaning and whitewashing. She worked hard during these festivals and that hard work and sincere efforts turned Shirdi into a Sansthan (State). Paraphernalia increased. Devotees presented a beautiful horse, a palanquin, chariot and many silver things, pots, buckets, pictures, mirrors etc. Elephants were also sent for the procession. Though the scale of celebrations with all the paraphernalia increased enormously, Baba ignored all these things and continued with his simplicity as before. It is to be noted that both Hindus and Muslims worked in unison in both the processions and during the entire festival there has been no hitch or quarrel between them so far. In the beginning about 5000-7000 people used to gather but in some years that figure went up to 75000. There has been no outbreak of any epidemic or any riots worth the name during past so many years.
Construction of Sathe Wada
Rao Bahadur H. V. Sathe who was the Deputy Collector of Ahmednagar came to Shirdi in 1904. He had come for an official work to Kopargaon and having heard about Sai Baba's greatness he came to Shirdi. He became attracted to Baba who also took a great fondness to Sathe. Sathe became
close with Baba but there was not much spiritual progress in him. The reason was that even with advancing age he could not control his lust. He used to visit a woman of ill repute in Shirdi. Sathe once went to see Baba before visiting her. On seeing him, Baba asked him whether he was on his way to the 'Shala' (the word
natakshala
is used in Marathi for a woman of ill repute). But Sathe, not aware of this nickname for the place, thought Baba was asking him about school (
shala
also means school) and gave some vague answer. Afterwards, he went to the house of the woman and sat in the outside verandah, indulging in some pleasant talks. After the pleasantries, when Sathe entered the house he was shocked to find Baba standing there staring at him with his sharp eyes, as if to caution Sathe. Baba also made some gestures with his hand which appeared as though he was questioning him whether he had all the way come to Shirdi only to get ruined. He immediately turned back and came to the mosque. He fell at Baba's feet and took a vow not to visit that woman again during his life time. Then Baba blessed him with his raised hand. In this incident Baba did everything silently without uttering a word. Baba corrected the wrongs of his devotees in such a way that only those who committed them would understand without others knowing about them.
Sathe purchased a piece of land near Gurusthan in the year 1906 and constructed a Wada (A large house) in 1908. Naming it Sathe Wada it came to be used as a Dharmashala (resthouse) for devotees. It still stands with some changes. Baba regarded Sathe as his right hand in regard to all matters. Because Baba was keeping Sathe close to him and relying on him for everything the residents of Shirdi grew jealous towards him.
How devotion develops While Baba lived many persons came to him for their problems and were satisfied but that is not surprising. What is remarkable is that many persons who did not believe in his divine qualities and considered all the miracles to be a fraud became his devotees as soon as they met him. All such stories would fill a book but the following typical story illustrates the point.
Mr. Laxman Nulkar, a subjudge at Pandharpur was a confirmed atheist while his friend Nanasaheb Chandorkar, the mamlatdar (administrator) at Pandharpur was an ardent devotee of Baba. He tried many times but without success to induce Nulkar to visit Shirdi to meet Baba but finally Nulkar agreed to accompany Chandorkar to Shirdi on the condition that he would visit Baba only in western style dress and would not bow before Baba. Also that he would come only as a tourist and only if he found a Brahmin cook before he left for Shirdi. Chandorkar smiled and agreed to these conditions. The same evening, a Brahmin came to Chandorkar for a cook's job and was sent to Nulkar thus satisfying the first condition. When the day of departure was fixed, Nulkar put one more condition that he should get the best quality Nagpur oranges for taking to Shirdi. Next day Nulkar found that somebody had kept a basket of hundred best quality Nagpur oranges in front of his door. Nobody could find out who kept them but the second condition was also fulfilled. Next day both friends left for Shirdi.
After reaching Shirdi Chandorkar was surprised to see that Nulkar had come to meet Baba in pure white Indian dress and not only that he prostrated before Baba who asked Chandorkar, "Who is this silly fellow you have brought with you?" Nulkar suspected that Baba knew about what he had said about him. When he told this to Chandorkar he consoled him telling him not get disturbed because Baba was an ocean of kindness. Next day Baba became wild on seeing Nulkar, abused him and said that it will be his "Satyanash" meaning destruction. Baba then held his head and hit it against a pillar. Everybody there quietly left. Chandorkar consoled Nulkar saying that Baba never does anything bad to anyone and he must have meant that not Nulkar but his sins will get destroyed. But Nulkar was worried.
That night Nulkar woke up suddenly at about two AM and developed a sudden craving for tobacco loaded betel leaf ("Pan"). He did not have any and he woke up Chandorkar who tried to convince him that in a village like that nobody was likely to give them Pan and tobacco at that hour. As Nulkar was pacing up and down the room somebody knocked on the door. Chandorkar opened the door to find a man from Dwarkamai who had come with four Pans saying that Baba had sent him because a devotee in that house was craving for it. He handed over the Pans to Chandorkar and left. Nulkar was watching all this with open mouth. Nulkar was no longer an atheist and became an ardent devotee of Baba.
In the image you worship Many visitors refused to bow to Baba or even to visit him for various reasons. Noolkar above was an atheist and did not like to visit. There was a doctor from Bombay who was a devotee of Shri Rama and would not bow to any other deity. A Ramdasi woman also got similar darshan of Shri Rama. Some were devotees of Dattatreya or Vithoba and insisted similarly. There were others who would bow only to their Guru. However in every case when they met Baba what they saw in Baba's place was their own deity or guru and then they became Baba's ardent devotees.
There are several incidents which go to prove Baba's oneness with other saints. some typical incidents are:
(1) Muleshastri was a learned person in Shastras, the six darshanas, astrology and palmistry. He once came to Shirdi to meet Mr Gopalrao Buti am ardent devotee of Baba from Nagpur. Though he had intended to return to Nashik immediately, on the spur of the moment he accompanied others in the morning to see Baba. At that time Baba was distributing bananas as prasad to those present. Muleshastri had a hidden desire to see Baba's palm and extended his hand to hold Baba's hand. Baba ignored it and gave him four bananas. Silently Muleshastri returned to the Wada where he was staying and prepared to perform his daily agnihotra ritual. Here in Dwarkamai Baba set out for Lendibag and remarked "Take geru (ochre coloured clay used for paint) with you, I have to wear the ochre coloured robe today." By the time Baba returned to Dwarkamai afternoon arati was about to begin, Baba said, "Go to the newly arrived Brahmin and get dakshina from him. So Buti went to him and found him busy in agnihotra. But out of respect for Buti he left it unfinished and accompanied Buti to see Baba with dakshina. But being conscious of getting polluted by entering a masjid he made obeisance to Baba and offered flowers from a distance. Now Miuleshastri got a shock. While everyone else was seeing Baba sitting in Dwarkamai what Muleshastri was watching was his Guru Gholap in ochre coloured clothes. He ran up to the masjid and embraced the feet of his guru. After arati was over what Muleshastri saw was Baba asking for dakshina. Muleshastri prostrated before Baba.
(2) Shri Vamanshastri Islampurkar, guru of Dasganu Maharaj, had told his disciple before taking samadhi to consider Shirdi Saibaba as his own form and there was no difference between them and that Baba would guide him from time to time in future.
(3) A rich and religious Parsi gentleman named Ratanshi from Nanded once decided to visit Baba with the desire of getting a son. Before leaving for Shirdi he gave a small party to the local Muslim saint Moulavi Jamalsaheb. That cost him three rupees and fourteen annas. When he visited Baba in Shirdi and put his hand in the pocket to make an offering of money, Baba said, "From the offering you are going to make deduct three rupees and fourteen annas and give the rest. I have already received three rupees and fourteen annas from you." It was much later that a puzzled Ratanshi with the help from Dasganu Maharaj related the two incidents.
(4) One Mr Pitale from Bombay came to Shirdi and bowed with folded hands before Baba. Baba took three rupees from his gown (kafni) pocket and said, "Bapu, I had given you earlier two rupees. Now add these three to those and worship them daily". Pitale was surprised because he had never met Baba earlier. However on his return to Bombay his mother remembered that his father had once visited Akkalkot to meet Swami Samarth and Swami had given him two rupees with instructions to worship them daily. After his father's death the daily puja had stopped and the two rupees had been lost hence Pitale was not aware of it
(5) There was a person from Goa who had taken a vow that if he got a job he would offer first month's salary to Lord Dattatreya. He did get a job for Rs 15 a month but forgot to complete his vow. When he visited Shirdi after many years (his salary had increased to Rs 700), Baba asked him for Rs 15 and told him that he had completed his vow to Lord Dattatreya.
Mrs. Radhabai Deshmukh
There was an old woman by name Radhabai, mother of one Khashaba Deshmukh. Hearing Baba's fame, she came to Shirdi with the people of Sangamner and after Baba's darshan resolved in her mind, that she should accept Baba as her Guru, and take mantra from Him. But Baba never gave any such mantra so she decided to fast herself unto death until Baba accepted her as disciple and gave her Mantra. She stayed in her lodging and fasted without even water for three days. Shama (Madhavrao Deshpande) noticed this and reported the matter to Baba interceding on her behalf. Baba sent for her, asked why she was putting herself to such torture and told her his own story concerning his guru. He said, "
Oh mother, why are you subjecting yourself to unnecessary tortures and hastening your death? You are really My Mother and I am your child. I tell you my own story. I had a Guru. He was a great Saint and most merciful. I served him long, very long; still he would not blow any Mantra into my ears. I had a keen desire, never to leave him but to stay with and serve him; and at all costs receive some instructions from him. But he had his own way. He first got my head shaved and asked me two
pice
as Dakshina (1
pice
was one sixty-fourth of a Rupee.). I gave the same at once. But these two
pice
were not coins. They were: (1) Firm Faith and (2) Patience or perseverance. I gave these two
pice
or things to him, and he was pleased. I resorted to My Guru for 12 years. He brought me up. He was my sole refuge. My mind was always fixed on him. This was Nishtha or Shraddha which is one
pice
of the Dakshina. Saburi (Patience or perseverance) is the other pice. I waited patiently and very long on my Guru and served him. This Saburi will ferry you across the sea of this mundane existence. Saburi is manliness in man, it removes all sins and afflictions, gets rid of calamities in various ways, and casts aside all fear, and ultimately gives you success. Saburi is the mine of virtues, consort of good thought. Nishtha (Faith) and Saburi (Patience) are like twin sisters, loving each other very intimately. "My Guru never expected any other thing from Me. Oh mother, my Guru never taught me any Mantra, then how shall I blow any Mantra in your ears? Just remember that Guru's tortoise-like loving glance gives us happiness. Do not try to get Mantra or Upadesh from anybody. Make me the sole object of your thoughts and actions; and you will, no doubt, attain Paramartha (the spiritual goal of life the truth. No Sadhanas, nor proficiency in the six Shastras, are necessary. Have faith and confidence in your Guru. Believe fully, that Guru is the sole Actor or Doer. Blessed is he who knows the greatness of his Guru and thinks him to be Hari, Hara and Brahma (Trimurti) Incarnate." Instructed in this way, the old lady was convinced; she bowed to Baba and gave up her fast.
Bade Baba Bade Baba the Muslim fakir in Aurangabad whom Sai Baba trained for twelve years came to Shirdi permanently in 1909. This Bade Baba was much respected by Sai Baba. He always sat on the right hand of Sai Baba. After the chilim (pipe) was first smoked by him, it was then offered to Baba and others. After the dishes were served, at the time of taking meals at noon, Baba respectfully called Bade Baba and made him sit on His left side, and then all partook of food. Baba paid him also daily Rs.50/- out of the amount collected as Dakshina. Baba accompanied him hundred paces whenever he was going away. Such was his position with Baba.
While a second cholera epidemic was around, somebody brought an old goat to the Masjid . It was weak, and about to die. Baba asked Bade Baba who was nearby to behead it with one stroke and offer it as sacrifice. But he flatly refused, saying why it should be killed for no reason. Then Baba asked Shama to kill it. He went to Radha-Krishna-Mai and brought a knife from her and placed it before Baba. Knowing the purpose for which the knife was taken, she took it back. Then Shama went to bring another knife, but stayed in the Wada, and did not return immediately. Then Baba asked Kakasaheb Dixit to do the job. Kakasaheb went to Sathe Wada and returned with a knife. He was ready to kill it at Baba's bidding even though he was a Brahmin who never in his life knew killing. All the people wondered to see that Bade Baba, a Muslim was unwilling to kill it while this pure Brahmin was making preparations to do so. He tightened his dhoti dress and with a semicircular motion raised his hand with the knife and looked at Baba for the final signal. Baba said - "What are you waiting for? Strike!" Then, when the hand was just about to come down, Baba said - "Stop, how cruel you are! Being a Brahmin, you are killing a goat?" Kakasaheb obeyed and kept the knife down and said to Baba, "Your nectar like word is law to me, I do not know any other ordinance. I remember you always, meditate on your form and obey you always without bothering whether it is right or wrong. Prompt compliance with Guru's orders is our duty and dharma". Then Baba said to Kakaseheb, that he would Himself do the offering and killing business. It was settled that the goat should be disposed of near a place called Takkya, where fakirs used to sit. When the goat was being removed to that place, it fell dead on the way.
Hemadpant closes the account with a classification of disciples. (1) First or best (2) Second or middling and (3) Third or ordinary. The best kind of disciples are those who guess what their Gurus want and immediately carry it out and serve them without waiting for an order from them. The average disciples are those who carry out the orders of their Masters to a letter, without any delay, and the third kind of disciples are those, who go on postponing the carrying out of their orders and making mistakes at every step. The disciples should have firm faith, backed up by intelligence and if they have patience to these, their spiritual goal will not be distant. Difficult practices like pranayama or Hathayoga are not at all necessary. When the disciples get the above-mentioned qualities, they become ready for further instructions and the Masters then appear and lead them on, in their spiritual path to perfection.
Dadasaheb Khaparde Dadasaheb Khaparde of Amravati, Member of the Central Legislative assembly and author of Shirdi Diary visited Shirdi in 1910. In 1911 when Khaparde family was living in Shirdi one day their son got high fever which further developed into Bubonic plague. A frightened Mrs. Khaparde thought of leaving Shirdi and went to Baba for permission. She met him as he was coming near the Buti Wada during his evening rounds. She informed him about his son having plague. Baba consoled her and reassured her that the difficulty will pass. He then lifted up his gown and showed to all present, four fully developed bubos, as big as eggs, and added, "See, how I have to suffer for my devotees; their difficulties are mine." Seeing this unique and extraordinary deed, the people were convinced about how the Saints suffer for their devotees. How their mind is soft and kind and how they love their devotees without any idea of personal gains regarding them as their own kin.
Gopalrao Buti Gopalrao Buti, a barrister from Nagpur was a disciple of Gajanan Maharaj of Shegaon.. Having been attracted to Baba he made Shirdi his home since 1910. Once he had a severe attack of diarrheal and vomiting which no medicine could cure. He went to Baba who made him sit, raised his finger and ordered not to go for evacuation of bowels or to vomit. Both the afflictions stopped immediately. Another time Buti was asked to drink kheer as medicine for cholera, which also worked.
One day, while Buti was sleeping he had a dream in which Baba directed Buti to build a wada along with a temple. Buti woke up to find Shama who was sleeping in an adjoining room crying in his sleep. When asked Shama replied that he had a dream in which Baba said let there be a wada with a temple so that he could satisfy the needs of all. They Buti decided to build the wada for which he along with Shama and Kakasaheb Dikshit met Baba and obtained his permission.
Construction started and then Buti had an inner urge to build a temple on the ground floor where he would install an idol of Murlidhar in the sanctum sanctorum. Baba consented but remarked, "When the temple is built we shall inhabit it and ever afterwards live in joy." A platform for the idol was mae and an order for the idol was also placed.
As it turned out Sai Baba fell ill immediately afterwards and it was his body and not the Murlidhar idol that was installed there.
Mr. Dabholkar (Hemadpant) Mr. Govind Raghunath Dabholkar or Hemadpant came to see Baba in 1910 through the grace of Nana Chandorkar. He was present when the episode of Baba grinding wheat himself and asking it to be thrown along village boundaries occurred. When he was grinding four women came to help him. But after the grinding was over they divided the flour into four parts to take with them. Baba became angry with tem and the women felt ashamed. But Baba asked them to go and sprinkle the flour along village boundaries. Hemadpant later was told that Baba had done this to keep cholera epidemic out of Shirdi. It was later found from records that while cholera had taken lives elsewhere there were none in Shirdi.
Hemadpant wanted to write a book describing the activities and miracles of Baba. Baba asked him to wait for some time. In 1917 he again approached Baba through Shama for permission to write the book. Baba blessed him and gave permission. Thus Sai Satcharitra in Marathi was written.
After retirement from Govt. service Hemadpant found it difficult to make two ends meet on a meagre pension. But Baba saw to it that he had alternate jobs to make up the deficit.
Laxmibai Shinde Laxmibai Shinde was a good and well-to-do woman. She used to work in the Masjid day and night. Except Mhalasapati, Tatya and Laxmibai, none was allowed to step in the Masjid at night. Once while Baba was sitting in the Masjid with Tatya in the evening, Laxmibai came and saluted Baba. The latter said to her – "Oh Laxmi, I am very hungry." She immediately left saying – "Baba, wait a bit, I am coming immediately with Bhakri." She returned soon with Bhakri and vegetables and placed them before Baba. But instead of eating it himself he gave it to a dog. Laxmibai then asked – "What is this, Baba, I hurried home, prepared Bhakri with my own hands for you and you are giving it to a dog without eating it yourself? You trouble unnecessarily." Baba replied – "Why are you unhappy? If the dog's hunger is satisfied then so is mine. The dog has got a soul; the creatures may be different, but the hunger of all is the same, though some speak and others are dumb. Understand for certain, that he who feeds the hungry, really serves me with food. Regard this as an absolute Truth." This is an ordinary incident but Baba thereby propounded a great spiritual truth and showed its practical application in daily life without hurting anybody's feelings. From this time onward Laxmibai began to offer Him daily Bhakri and milk with love and devotion. Baba accepted and ate it lovingly. He took a part of this and sent the remainder with Laxmibai to Radha-Krishna-Mai who always relished and ate Baba's remnant prasad. This Bhakri story shows how Sai Baba pervaded all the creatures and transcended them.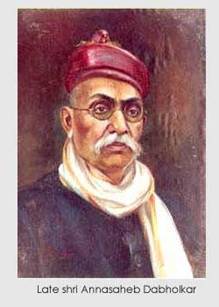 Devotees from everywhere Baba never claimed himself to be a Guru but he was always surrounded by innumerable devotees of all castes, creeds and religions, including educated people like doctors, pleaders, government officials etc. from cities as well as illiterate villagers irrespective of whether they were rich or poor. In the beginning Baba did not ask for dakshina but later he began to ask for it and at the end of the day distribute it around. Baba knew what was in everyone's pocket so nobody could say he did not have the money or whatever Baba asked. Often the person himself did not know that he was carrying the very item Baba was asking him for and was surprised when he found it. Baba's grace extended even to animals some of whom, Baba informed, were men with bad karmas reborn as animals.
His devotees belonged to all religions, Hindus, Muslims, Jews, Parsees as well as Christians. Political celebrities like Lokamanya Tilak (1917) and Dadasaheb Khaparde (1910), saints like Bidkar Maharaj, famous actors like Ganpatrao Bodas and even senior British officials like Commissioner of Central Provinces Sir George and Lady Curtis and Collector of Nagar district Mr. Macaulay visited him. Baba had the power to read what was going on in people's minds even when they were in faraway places and used to talk to them giving them solace. He always said "Allah Malik Hai" i.e. God is the master, "Alla Tera Bhala Karega" i.e. God will bless you but he never claimed himself to be God. Baba did not preach but managed in various ways proper lesson to be imparted to the person concerned. We have already seen how Dasganu was taught the meaning of Ishavasyopnishad. Two mottos from Baba's teachings are Shraddha (Faith) and Saburi (Patience). Another remarkable thing about Baba was that ardent prayers for help reached him even from a distance and he helped. Baba cured people of their diseases and material problems as well. People found that his instructions, however strange or ill advised they may appear, should be obeyed otherwise they suffered losses.
Only a few incidents from Baba's life are given in the above. It would be impossible to give details of every incidence which even Sai Satcharitra could not fully cover.
Events Preliminary to Samadhi Baba knew about his own as well as others' past births, so he must have known about the present lifetime also especially when his own mahasamadhi would be. According to Kamath and Kher (See Bibliography), Baba, four months earlier to mahasamdhi, called Bade Baba's son Kasim. Giving him Rs 250 he sent him to Aurangabad to see Fakir Shamsuddin Mian with a message to arrange for "Nat" i.e., singing the Prophet's praise, qawali (Muslim Bhajans to the accompaniment of drum and clapping) and langar (feeding people). He also gave him a garland of sevanti flowers (chrysanthamums) to be given to Fakir Banne Mia with the message: "Nou din, nou tarikh, Allah Mia apne dhunia le jayega. Marji Allahki." Baba asked Imam Chhota Khan to accompany him. They left Shirdi and reached Aurangabad railway station at 3 PM. Fakir Shamsuddin Mian had come to the station to receive them. He asked Imam Chhota Khan whom he knew, who the guests were that had come from Fakir Sai and repeated Baba's instructions to him word for word.
Next day, Kasim and Imam went to Banne Mia's house. He was standing with one arm raised in the air. The Arabs standing around him warned them not to disturb him lest they were beaten by him. An hour later Imam took courage and put the garland given by Baba in Banne Mia's neck. Banne Mia lowered his arm and the Imam gave him Baba's message. Fakir Banne Mia gazed at the sky and tears began to flow from his eyes. Baba passed away four months later. These actions of Sai Baba confirm his Sufi connections.
Fourteen days earlier to his passing away Baba made Vaze a devotee to sit in the Masjid and read the book Ramvijaya and sat listening. Vaze took eight days for the first reading took, three days for the second and during the third reading Vaze became tired and Baba made him stop and sent him away.
Two years earlier one Ramchandra Patil who was very ill was praying to Baba. Baba had told him in a vision that he himself need not worry but Tatya Kote's days were numbered and that in 1918 Tatya would die on Vijayadashmi day. Tatya was Bayajabai's son. Though Baba asked Patil to keep this a secret he was very disturbed and told the prediction to Bala Shimpi.
There were other signs too. A few days earlier the brick mentioned earlier fell and broke due to the negligence of a devotee. When Baba came to know about it he said, "It is not the brick which has broken but it my life which has been smashed. That brick was my companion for life. Now I am not going to live much longer." And soon after that Baba started getting fever.
The Day of Samadhi True to Baba's word told to Ramachandra Patil, Tatya fell sick in September 1918 and was bed-ridden. He could not come for Baba's darshan. Baba was also down with fever. Tatya had full faith in Baba and Baba in God. Tatya's illness worsened and he could not move at all but always remembered Baba. The predicament of Baba began to grow equally worse. The day predicted, i.e. Vijayadashami was approaching and both Ramachandra Patil and Bala Shimpi were terribly frightened about Tatya because Baba's words could not be false. On Vijayadashami day which was Tuesday, the 15th October 1918 Tatya's pulse became very slow and he was expected to pass away any moment. But a curious thing happened. Tatya remained, his death was averted and in his stead Baba left his mortal coil at about 2-35 p.m. It seemed as if there was an exchange. People said that Baba gave up his life for Tatya. Only Baba can tell why he did so. It seems, however, that Baba hinted about his own departure, substituting Tatya's name for His.
On the day of his samadhi Baba sent home all the people who normally used to eat with him in the Mosque. Then he gave Laxmibai five rupees first and then four more rupees. Shyama alias Madhavrao Deshpande was sitting on the steps of Dwarkamai to whom he told in a weak voice to take him to the stone house of Mr. Buti. And those were the last words uttered by him. He kept his head on the lap of his devotee Bayajiappa Kote Patil and in that sitting position breathed his last.
There was a big gathering of his devotees and there were arguments about the relics. Muslims wanted to build a Darga while Hindus wanted to build his Samadhi in the house of Mr Buti as per the last words. Finally, the Mamlatdar of Kopergaon took a vote and decided to build the samadhi in Buti's house which was done thirty-six hours after his death. But during this period Baba's body did not lose its brightness.
Today Shirdi has become a place of pilgrimage where thousands flock to pray to Baba and take part in the daily rituals. His temples are being established in many countries. Baba is more like a God than a spiritual human being. There are many temples in many towns and cities devoted to him. Besides the organisation which manages the Shirdi Establishment many other institutions have been established that sponsor temples as well as social services to the public. One such organisation is Shri Sai Baba (Shirdi) Mission International based in UK which has a plan of installing 110 silver Padukas at various locations round the world of which more than a dozen have already been installed, some of them in Europe.
Offered at the feet of my Guru Shri Shankar Maharaj
BIBLIOGRAPHY
Shri Sai Satcharit by Dabholkar (Hemadpant)
Sai Baba of Shirdi by M.V.Kamath and V.B.Kher, Jaico Books (1991) 341pp.
Sai Baba - his divine glimpses by V.B.Kher, New Dawn Press UK 2006, (160pp)
Dattaparampara by V.V.Shirvaikar, A 10-article series published in the magazine Sai Arpan a quartly magazine from Shri Shirdi Saibaba Spiritual and Charitable Trust, Bombay. July 1997 to Sept 1999.
Dnyaneshwari (The Philosophical Part) by V.V.Shirvaikar On the Internet at URL: www.vvshirvaikar.de/index-main.html
Gurucharitra (Researched edition) by R.K.Kamat. Keshav Bhikaji Dhavale, Girgaon Bombay 400004.(In Marathi)
The photographs of Sai devotees are from an email communication dtd November 2, 2008 from a Sai-devotee Mr Rohit Behal. I am grateful to him.
© Copyright: Dr V.V.Shirvaikar Email: vshirvaikar@yahoo.com
Uploaded first OCTOBER XX, 2009 Last update: 17.Jun.2010
LINKS: Main home page. Dattatreya Tradition Home page
PARTs: I II III IV V-A V-B VI VII-1 VII-2 VII-3 VII-4