DATTATREYA TRADITION
(DATTA-PARAMPARA)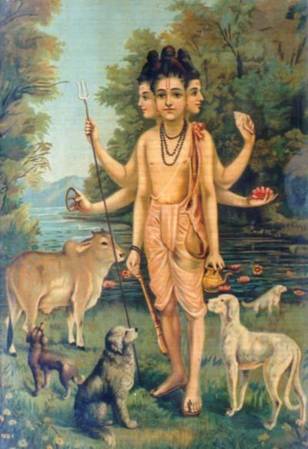 PART III – FIRST AVATAR: SHRIPAD SHRIVALLABH
Dr V.V.Shirvaikar
SHRIPAD SHRIVALLABH
Our main and really speaking the only source of information about Shripad Shrivallabh and Shri Narasimha Saraswati, the first two avatars of Shri Dattatreya, is the famous book Gurucharitra. It is a holy book in the Dattatreya Tradition and a spiritually powerful composition in Marathi verse by Saraswati Gangadhar on the life and teachings of the two saints. Saraswati Gangadhar was the great-great-grandson of Sayandeo one of the householder disciples of Shri Narasimha Saraswati. He wrote it about a century after Shri Narasimha Saraswati's Samadhi in 1458 AD. The book extols Guru-worship through a number of stories in their life.
BIRTH AND EARLY LIFE
Shripad Shrivallabh was born in 1320 AD in a Brahmin family at Pithapur (Pithapuram) in Andhra Pradesh. It is now in the Godavari District of Andhra Pradesh. It is located on Hyderabad-Vishakhapattanam railway line and is about 10–12 km from Samalkot junction.
In Pithapur there used to live a Brahmin by the name Appalaraju Sarma belonging to the Apastambha branch. His wife Sumati was a pativrata (i.e. chaste lady who worships and obeys her husband). On one Amavasya day (day when there is no moon) a Shraddha ritual (annual offering to ancestors) was being performed in the house when Shri Dattatreya came in the disguise of a mendicant. Though it is customary to feed the Brahmins invited for the ritual before anybody else eats in the house, Sumati gave alms to Shri Dattatreya who was very pleased and showed her his subtle form of the Trinity. Sumati rushed to him and fell at his feet and offered sincere obeisance. Dattatreya said to her, "Oh mother, ask whatever you desire and you will get it." Sumati praised him and said that since he had addressed her as mother let it turn out to be true. She said that she had conceived many sons but only two had survived and those too were useless because they were lame and blind. She prayed that she should have a son who was a sage like him. Dattatreya gave her the boon with the condition that she should always listen to her son and vanished, leaving the woman wondering. She told this unusual happening to her husband who was happy with the realization that Shri Dattatreya himself had come and would take birth as his son. Sumati begged pardon for giving alms before the Brahmins were served, but her husband said that they were fortunate to have had a chance to feed Shri Dattatreya, an act by which the forefathers would be content.
Very soon Sumati was pregnant and in due time gave birth to a son. Though not mentioned n Gurucharitra, his birthday is celebrated on the fourth day of the bright fortnight of Bhadrapada, the sixth month according to the Hindu calendar. It is also the day of Ganesh Chaturthi, the birthday of Ganapati. His horoscope predicted that the boy would become a great Tapaswi (a sage performing penance) who would be a teacher to the world and capable of initiation of disciples. He was named "Shripad", because Dattatreya himself had taken avatar in the form of the boy in order to benefit devotees.
When the boy was seven years old the Brahmin performed his thread ceremony. The boy studied Vedas and became expert in Mimansa, Tarka (logic) and other Shastras. The boy used to advice about the code of personal and public behaviour and about the atonements for different types of sins to all. He gave discourses on the various commentaries on Vedanta to the Brahmins.
Leaves home on pilgrimage When the boy was sixteen his parents began contemplating his marriage but he refused and said that he is a detached person, a celibate (Brahmachari) and wishes to go north to do penance and practice yoga. Remembering the instructions of Shri Dattatreya his father had to let him go. But he also lamented about his hopes that he would be their support in old age since his elder brothers were infirm. Both mother and father wept with grief and fell unconscious. Shripad brought them back to senses, looked benevolently at his two brothers who, with his power, instantly became free of their infirmities and received the knowledge of Vedas, Shastras etc. After instructing the two brothers to take care of the parents and accepting their obeisance, Shripad Shrivallabh left for Varanasi. From there he went to Badarikashram and then to Gokarna Mahabaleshwar on the west coast in Karnataka, the place where the Shivalinga given to Ravana by Shiva himself is embedded. After staying there for three years Shripad Shrivallabh went to Shri Shailam where he stayed for four months and then came to Kuravapur on the banks of river Krishna.
It is notable that Shripad Shrivallabh did not become a Sanyasi but lived like an avadhut (ascetic).
Gurucharitra states that in this Kali age (Kaliyuga) persons born in Brahmin families forgot their prescribed code of conduct and lived a life improper to Brahmins. This avatar was to save the religion by reviving the code of conduct and to protect the devotees.
FOUNDATION FOR THE NEXT AVATAR
Boon to Ambica At Kuravapur the foundation for the next avatar was laid. It happened like this.
There was a widow named Ambica whose son was a very dull boy though his late father was a learned person. He forgot immediately whatever he learnt. The father had died broken-hearted due to his son's dullness. All neighbours used to tease and taunt the boy. The mother and son had to resort to begging for livelihood. Fed up with that kind of life both decided to commit suicide by drowning in the river. When they came to the river they saw Shripad Shrivallabh taking his bath. They went to him and told him of their decision requesting that they should not be stained by the sin of suicide. Shripad Shrivallabh felt compassion for them and told them to observe a vrata (a routine with austerity) called Shanipradosha which involves worship of Shiva so that she would get a good son like himself at least in the next birth. With his benevolent hands he blessed the boy who became instantly intelligent and learned. Ambica and her son left and spent their life as instructed. In the course of time Ambica died; she was reborn at Karanja as Ambabhavani and became the mother of the second avatar Shri Narasimha Saraswati about which we shall read later.
Boon to Washer-man While Shripad Shrivallabh was staying at Kuravapur on the banks of the Krishna River, he used to come to the river for the customary thrice daily bath. A washer man used to visit him daily to make his obeisance and prostrate before him. One day Shripad Shrivallabh casually remarked to him to go and reign as a king. The washer man kept these words in mind.
One day a Muslim king came to the river with his retinue for enjoying an outing with his well dressed and ornamented wives. The washer man felt jealous of the king and said to himself, "Which deity could this king have worshipped and which guru he must be having to be able to enjoy such wealth!" When the washer man visited that day Shripad Shrivallabh read his mind and told him that unless one satisfies one's desires the mind does not get cleansed of unfulfilled desires and that causes troubles in future births. Therefore he should take the next birth as a king in a Muslim dynasty. Shripad Shrivallabh further told him that he himself also would be reborn as Narasimha Saraswati and they would meet in the next birth.
Place of meditation of Shripad Shrivallabh
SAMADHI
Shripad Shrivallabh took Samadhi at Kuravapur on twelfth day in the dark half of the month of Ashwin. It is celebrated now as Guru-Dwadashi. The year of Samadhi is given as 1350 AD but there is considerable uncertainty about the date as this makes his age at the time of Samadhi as only thirty years (Ref:P.N.Joshi p 46). Before taking Samadhi he promised his disciples of his continued presence at Kuravapur. This is evident from the next story.
APPEARANCE AFTER SAMADHI
Gurucharitra gives an instant of how even after Samadhi Shripad Shrivallabh helped one of his devotees, a Brahmin merchant by the name Vallabhesh. The latter was proceeding to Kuravapur with the intention of giving meals to Brahmins. Some thieves accompanied him as co-travellers to Kuravapur and killed him one night while he slept. But Shripad Shrivallabh rushed there with his yogic powers and with his trident killed all the thieves except one who pleaded for mercy, not having been part of the plot. Shripad Shrivallabh revived the devotee and vanished. In the morning the devotee woke up and found what had happened through the surviving co-traveller. Devotees feel the presence of Shripad Shrivallabh at Kuravapur even today.
The above Vallabhesh is considered to be founder of the Hedgewar family in which Dr. K. B. Hedgewar who founded the Rashtriya Swayamsevak Sangh belonged to the 9th generation from Vallabhesh. A temple constructed according to his guidelines was constructed in Pithapuram and is being maintained by Sripada Srivallbha Mahasansthanam.
We see in Shripad Shrivallabh a great Sanyasi, dispassionate and compassionate. He does not stay away from people as many Sanyasis do but encounters people and graces them. There are some who assert that the Dattatreya avatar was to maintain the caste system. But this seems to be a prejudiced view of people who identify the Hindu way of life with caste system. For, we see from the study of the activities of Shripad Shrivallabh as well as of the other avatars that they gave their grace to all irrespective of not only caste but of religion as well. This is the true picture of Shri Dattatreya who, for the past several millennia has graced and been a guru to countless persons.
ABOUT KURAVAPUR
Kuravapur is also known as Kuruvapur, Kurugadda or Gurudweepam. During Nizam days this was known as Kuruvalaya. Situated in the state of Karnataka in India it has become a famous place of lord Dattatreya on account of Shripad Shrivallabh.
It is an island in the Krishna River hence one can reach there only by a hired boat. The difficulties in reaching Kuravapur have not prevented devotees from visiting it in large numbers. Shri Vasudevananda Saraswati (Tembeswami) spent the Chaturmasa period (the four monsoon months)" here in the year of 1911. His disciples Shri Rangavadhuta and Gulavani Maharaj were also performed penance here. Important places at Kuravapur are: Striped Shrivallabh paduka mandir, a 1000-year old Vata-vriksha (banyan tree), the cave where Shri Vasudevananda Saraswati performed penance and the Dattatreya temple at Sri Vithalbaba ashram.
Shripada Shrivallabha stayed here in his later life. The story of the Vallabhesh planning to feed about 1000 Brahmins shows that the village must have been quite big. Now (2006 AD) the population has reduced and there are many fields in between the temple and the village. The village is at one end of the island and the temple is at the other end.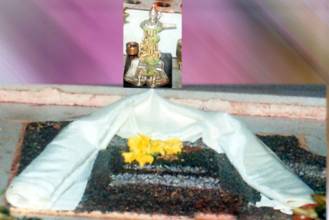 Shripad Shrivallabha padukas at Kuruvapur
How to reach Kuravapur: There are two routes to reach Kuravapur: via Raichur in Karnataka state and via Makthal in Andhra Pradesh state.
Raichur is about 12 hours train journey from Pune. At Raichur one can hire a bus/rickshaw towards a place called Atkur 40 km away. There is also a six times daily KSRTC bus service from Raichur to Atkur, most buses ending at the bank of Krishna. At Atkur one can hire a small elliptical boat called theppa or butti to cross the Krishna river and reach Kuravapura at a fee of about Rs 20/-.
Makthal (Mahaboobnagar district, Andhra Pradesh) is 68 Km from Mahaboobnagar and 168 Km from Hyderabad, Andhra Pradesh. Mahaboobnagar is also connected by rail route. One has to go by bus either from Mahaboobnagar or by Hyderabad-Raichur bus via Mahaboobnagar and get down at Makthal. One has to hire an auto or taxi (jeep) from Makthal to the river bank 17 Km away. There are two locations on the river bank where Butti or small boats can be hired. One is Panchdeo Pahad and another one is behind Vithal baba ashram (1Km from ashram). One can catch theppa to reach this island.
Lodging and boarding facilities are not available at Kuruvapur. It is recommended to reach in the morning hours and return in the evening by 5.00 p.m. Pilgrims should packed food and snacks etc. If at all want to stay at nights, the temple Priests will arrange food (with prior intimation after reaching there) for a fee and the pilgrims have to sleep in the premises of the mandir.
NOTE: The Government of Andhra Pradesh is going to construct "JOORALA PROJECT" which is only about 10 Km distance from Kuravapur. The people who are staying in the surrounding area are telling that the Kuravapur Kshetra will be submerged after the project is completed.
His role as an avatar
Shripad Shrivallabha was born at a time when the region was being attacked by Muslims Unlike earlier invaders who ultimately became assimilated in the Hindu way of life these invaders did not stop at acquiring the kingdoms but began to forcibly convert people to the Muslim religion, destroy temples, idols and statues. The practice of the earlier Muslim invaders who invaded mostly the northern regions after conquering a kingdom was to put to death all fighting men and take others as slaves and sell them. Fortunately the Moghuls invaders did not resort to this. Majority of the Hindu population was spared from death and slavery but was subjected to Jizia tax customarily laid on non-Muslims. Instead, persons experienced in administration and governance were inducted in the ruling of the conquered kingdoms. Majority of such people were of course Brahmins and the upper class whose daily routine now changed from the orthodox and adjusted to that of the new rulers. There was naturally a cultural mixing between the Hindu-Muslim communities.
The Hindu Muslim situation in the Maharashtra-Karnataka-Andhra is summarized by V.B. Kher in his book "Sai Baba – His Divine glimpses Ch 6, See Bibliography).
The Muslim invasion of south started in 1296 when Allauddin Khilji invaded the Yadava kingdom of Devagiri, defeated Ramdeva. It was renamed as Daulatabad. After a lot of internal struggles the Khiljis and Tughlakhs were driven out and in 1347 Hasan became the king, naming himself Abdu-Muzaffar Allauddin Bahaman Shah and the kingdom was known as Bahamani kingdom. We see that even before Samadhi, Muslim rule was well entrenched in the region. The incidence of the washer-man watching wistfully the Muslim king's picnic also indicates this.
In 1300 AD the Sufi saint of Delhi sent 700 Sufi saints belonging to different orders to Deccan. These saints settled in various parts of Deccan. The leader of this group Mutajabuddin Zarzari Zar Baksh settled on the outskirts of Daulatabad. After his death in 1309 his elder brother was sent by Nizam-ud-din Chishti with another band of Sufi saints, whose mission was to spread Islam in the Maharashtra-Karnataka region. Many disciples were attracted towards them and many but not all converted to Islam. Their influence stabilized Muslim rule in Maharashtra. Once this happened, conversion which was voluntary took an aggressive form. The Dargas and shrines established by these saints are still popular pilgrimage centres for both Hindus and Muslims.
Many Sufis became devotes of Shri Dattatreya. Dattatreya came to be known to the Muslims as Shah Faqir or Shahdatta Alam Prabhu and had many Muslim devotees. We see two centuries later the great Dattatreya devotee Janardanswami (b. 1504 AD)becoming the disciple of Chand Bodhale a Sufi of Kadaria sub-sect. Saint Eknath was Janardanswami's disciple and both were given darshan by Dattatreya in the form of a Malang i.e. a Muslim fakir.
Sri Guru Datha Threya Baba Budangiri Dargah is said to be the oldest Sufi shrine in Chikmagaluru District, Karnataka. The available history says that one Dada Hayath, his real name being 'Hazrat Shah Jamer Allah Mazarabi', considered to be a direct disciple of the Prophet, was sent to India in 11th century from Saudi Arabia to spread the message of Islam and peace, in true tradition of Sufism. The historical records tell us that the shrine of Baba Budhan was patronized by both Hindu as well as Muslim kings, both of whom endowed it with large land grants. In edicts issued by the Hindu rulers of Mysore the shrine was referred to, as the Sri Dattatreya Swami Baba Budhan Peetha ('The Monastery of the Revered Lord Dattatreya Baba Budhan'), while the Muslim custodians of the shrine were granted the honorific title of jagadguru or 'Teachers of the World'. They were, in addition, the only Muslim religious heads to be exempted from personal appearance in the civil courts of the state. This shows the cultural exchange as well as the influence of Dattatreya in the Sufi sect. (Ref Baba Budangiri: Internet URL see Bibliography)
We shall speak more about Sufi aspect in the next part on the biography of the second avatar Shri Narasimha Saraswati.
We see that while Shripad Shrivallabha did not move among people he was aware of the Muslim influence in its early stage and laid foundation for the second avatar that carried his work further.
Offered at the feet of my Guru Shri Shankar Maharaj
BIBLIOGRAPHY:
Gurucharitra, (Researched edition) by R.K.Kamat. Keshav Bhikaji Dhavale, Girgaon Bombay 400004.(In Marathi)
Shri Dattatreya Dnyanakosha by Dr Pralhad N. Joshi, Surekha Prakashan, Parel, Bombay 400012, (1974), 606pp (In Marathi)
Shripada Shri Vallabha Wikipedia article.
Sai Baba - his divine glimpses by V.B.Kher, New Dawn Press UK 2006, (160pp)
Baba Budangiri: URL: http://footnotesonsecularism.wordpress.com/2009/07/11/baba-budangiri/
© Copyright: Dr V.V.Shirvaikar Email: vshirvaikar@yahoo.com
Uploaded first: OCTOBER XX, 2009 Last update: 17.Jun.2010
LINKS: Main home page. Dattatreya Tradition Home page
PARTs: I II III IV V-A V-B VI VII-1 VII-2 VII-3 VII-4